Actress Jenny Agutter OBE was in town last week to offically open a new nursery in Cribbs Causeway.
Best known for her role as Roberta in the BBC television series The Railway Children, Ms Agutter opened the new Caerleon Child Care nursery on a site next to the Jump children's play centre in Concord Road.
Following the success of its first nursery in Cardiff (for children of 2 months to 5 years), Caerleon Child Care has invested over £350,000 to create the Cribbs Causeway facility.
The nursery has been designed by architect Neil Scott to be "bright and spacious – a place for children to learn and have fun – but most of all to feel safe."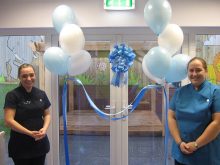 Caerleon is hoping the new location will follow the success of its Cardiff nursery, which already has 94 registered children just ten months after opening.
John Tham, Chairman of Caerleon Child Care, said:
"Placing their child in a nursery is one of the hardest decisions parents have to face. Our commitment is to reassure parents that in partnership with them their child with our support will reach their full potential."
The company says it is expecting to create in the region of 30 jobs at the new nursery.