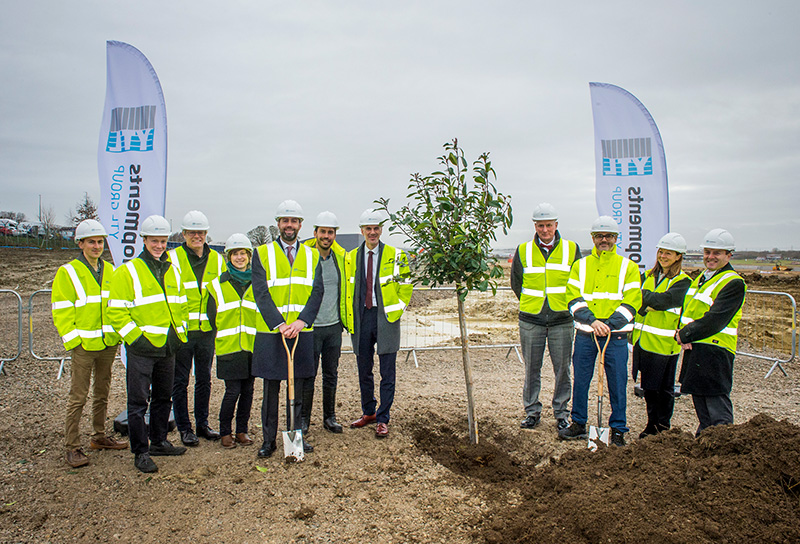 A ceremony has been held to mark the start of construction on the first homes at Brabazon, the new neighbourhood being built by YTL Developments on the site of the former Filton Airfield.
The event, on Tuesday 7th January, was attended by Cllr Toby Savage, leader of South Gloucestershire Council.
With the necessary enabling works having been completed in 2019, Cllr Savage was joined by the leaders of Filton, Patchway and Almondsbury councils to celebrate as the first foundations were dug on what will ultimately be a £2 billion project.
Also attending were local community leaders, including the CEOs of Southern Brooks Community Partnership and the Southmead Development Trust, while the local business community was represented by staff from Airbus and Network Rail.
Subject to funding and regulatory approval for the MetroWest Phase 2 project to reopen the Henbury Line to passenger traffic, Network Rail will be building a new station within walking distance of the new homes at Brabazon.
Cllr Savage commented:
"Filton Airfield is steeped in history. Today this part of South Gloucestershire is a world-leading hub for engineering and innovation. The new neighbourhood at Brabazon will provide the homes, offices and infrastructure to allow that amazing commercial cluster to continue to grow."

"This is a major investment into our local community. The project will create new homes and new opportunities and our shared vision is that it will be a place that all local workers, residents and visitors will feel proud of."
There will be 278 homes within the first phase of this new urban community, which aims to set a new standard for quality development in the region.
Jon McDiarmid, director at YTL Developments, said:
"The former Filton Airfield was the birthplace of Concorde. We want to make sure that Brabazon lives up to that legacy."

"The iconic aircraft that were built here were known for their considered design details, timeless styling, and cutting-edge technology. Our aim is that people will feel the same way about these new homes"

"Our vision is to create a thriving new neighbourhood for North Bristol so it's very special to be joined by leaders from across the local community to mark this major milestone as we dig the first foundations."
Elsewhere on the former airfield site, YTL Developments recently submitted a planning application to transform the historic Brabazon Hangars into a new arena complex for Bristol.
The first homes at Brabazon will go on sale in autumn 2020, with the first residents expected to move in early in 2021.
Related link: Cribbs Patchway New Neighourhood (PJ)
Photos – Top: Cllr Toby Savage, fifth from left, with other guests at the celebratory event. Above: Advertising boards near Blenheim Roundabout on Hayes Way.
This article originally appeared in the February 2020 issue of the Bradley Stoke Journal magazine (on pages 24 & 25). The magazine is delivered FREE, nine times a year, to ALL 8,700 homes in Bradley Stoke. Phone 01454 300 400 to enquire about advertising or leaflet insertion.