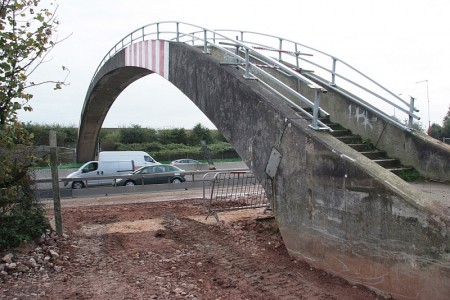 A replacement for the recently-removed Pegwell Brake footbridge over the M5 near Patchway is due to be installed next week, reports the Highways Agency.
The previous bridge was dismantled last November, when a number of massive cranes were brought in to hoist it away after it had been cut into two sections.
The bridge, also known locally as the Banana or Rainbow Bridge, is being replaced as part of the £89 million M4/M5 Managed Motorways project that will see hard shoulder running introduced at peak times on the M4 (between the top of the M32 and the Almondsbury Interchange) and the M5 (between Cribbs Causeway and the Almondsbury Interchange).
The previous bridge had a curved profile that meant there was limited height clearance over the hard shoulder. It is being replaced by a steel bridge that will allow high-sided vehicles to pass under when the managed motorway scheme is fully operational and the hard shoulder is used as a running lane.
The M5 will be closed overnight for two nights (Monday 7th January and Tuesday 8th January) to allow the new bridge to be installed.
The northbound carriageway will be closed from junction 17 (Cribbs Causeway) to junction 16 (Aztec West), while the southbound carriageway will be closed from junction 15 (Almondsbury Interchange) to junction 17.
On each night, the motorway will be closed from 10pm and will re-open at 6am the following morning.
Highways Agency senior project manager Paul Unwin said:
"Installing the new footbridge is a complex engineering process and the only way that we can do this safely and quickly is by fully closing the motorway in both directions."

"To minimise disruption for anyone planning to use the M5 during the closure, we have scheduled the works to avoid peak traffic times and events such as the Christmas school holiday. We have also been working closely with local stakeholders to ensure they are aware of the diversion routes in place during the closures."

"We strongly advise that people plan ahead, leaving plenty of time for their journeys and to drive safely via the diversion routes which will be clearly signposted."
The Highways Agency says it hopes the footbridge will re-open to pedestrians by the end of January.
More information and related links: