Pixie Lott visited The Mall at Cribbs Causeway yesterday evening (Saturday 2nd) to celebrate the Queen's Diamond Jubilee in true British style.
As Bristolians gathered to mark this national event, they were joined by the typical British weather, as rain poured down over the concert. Nevertheless, equipped with emergency ponchos and umbrellas, the fans were not defeated by the iconic British rain.
Union Jack flags flooded the crowds, as the audience danced and cheered to the three acts and a famous presenter performing in The Mall car park. The first act to appear on the stage, was Young Kato. This young boy band from Cheltenham "got the crowd moving" giving a "great performance", as mentioned by audience member, Rio Bradley. The band showed great improvement from a previous performance at the Olly Murs concert in November.
The second act of the night was X Factor's very own, Misha B. She performed a cover of one of Britain's favourite songs, Rolling In The Deep. She also performed some of her new songs, including Make It Last Forever and Home Run. Stating to be "British and proud", she engaged the crowd, encouraging them to dance and sing along, proving to be a great entertainer.
Some may say that the presenter, Joel Dommett, was inappropriate at times, since he swore throughout the concert and stripped for the audience. Nevertheless, it was all in good cause, as the money he raised from the audience went to the amazing charity, A Life For A Cure. Collection buckets and arm bands were used to raise as much money as possible for this great cause.
Finally, the headliner, Pixie Lott took to the stage. Dressed in blue, white and red, she united the audience, and got everybody in the party mood. She sang acoustic versions of many of her own songs, such as Mamma Do, Boys And Girls, Kiss The Stars and Cry Me Out, showing her pure talent for singing. She also did many covers of her "favourite" songs, including Use Somebody, Isn't She Lovely and Ain't No Mountain High Enough. She had a wide range of excellent songs, highlighting her musical ability.
Despite the great British weather, the audience had a fantastic time, being entertained by inspiring British musicians, to celebrate the Diamond Jubilee.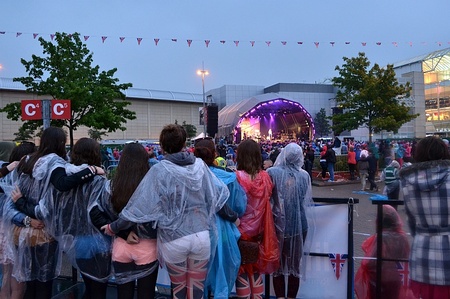 More photos from the concert on PicasaWeb.