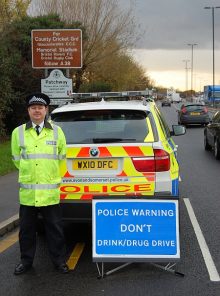 Avon and Somerset Police's Operation Tonic Christmas drink and drug driving campaign started today (Thursday 1st December) and the A38 Gloucester Road near the Aztec West Roundabout was the site of one of the first checkpoints to be set up.
Officers from the force's Road Policing Unit were randomly stopping vehicles on the southbound carriageway just south of the roundabout during the morning rush hour.
A new feature in this year's campaign is an appeal for the public to call 999 or text on their mobile phone to report offenders they know are getting behind the wheel while under the influence.
Chief Inspector John Holt of the force's Operations and Roads Policing Unit said:
"Most people now regard drink and drug driving as socially and morally unacceptable – and I'm sure they will fully support us in trying to make the roads of Avon and Somerset safer for all."
People are being encouraged to text the word DRUNK to 81819 to send in their information. It will be available throughout the month-long operation.
The Chief Inspector continued:
"We understand that in some circumstances it can be difficult to call police if you believe that someone is about to get into their car and drink or drug drive, especially if you know them personally."

"When someone texts DRUNK to 81819, it will be treated by our control room in the same way as a 999 call."

"These texts may be reports from a patron or landlord at a pub who has just seen someone get into a car after drinking, or a friend or relative concerned that a loved one may be drink or drug driving.

"To make sure we can make the best use of the information texted to us, we ask that as much information is included as possible."

"For example it would be helpful to include details about the time and date, where the person is driving from and where they are heading to, a number plate and the person's name. All this information will help us to trace the driver."
Anyone who would like to report drink or drug driving to police can also call 101 if it is not imminent – for example a habitual drink-driver – or via the charity Crimestoppers on 0800 555 111.
The Chief Inspector added:
"It's a disappointing fact that so many people need to be reminded of the dangers of drink driving. Many believe that it is only those who are obviously drunk that are a danger on the roads. This is not true. One person's tolerance to alcohol is very different to that of another's. Even a small amount of alcohol can affect driving enough for someone to cause a serious accident, injury or death to themselves, a loved one or someone they don't even know."

"There is no safe drinking limit – other than not drinking at all."
Operation Tonic forms part of the police's Have the Christmas You Deserve campaign, which will be running throughout December. The campaign incorporates a range of activities to tackle issues related to the festive period, such as keeping your Christmas gifts safe and helping people to stay safe over the party season.
Tonic is part of the force's Operation Relentless campaign – reducing death, serious injury and crime on the roads of Avon and Somerset. Drink/drugs driving is one of the so-called 'fatal four' offences, together with speeding, not wearing a seat belt and using a mobile phone while driving, that are known major causes of collisions.
It's hoped that Operation Tonic 2011 will see a decrease, for the ninth year running, in the number of drivers arrested. Last year was a record low with 150, compared with 329 in 2002 when Operation Tonic began.
Police have warned that:
Refusal to provide a breath specimen could lead to a six month prison sentence, a fine of up to £5,000 and a 12 month ban from driving.
Drink drivers face up to six months in prison, a fine of up to £5,000 and a ban of at least 12 months.
Anyone causing death by careless driving while under the influence of drink could be imprisoned for up to 10 years and banned for up to two years.
Over the past nine years more than 2,000 drivers have been arrested and tested positive and subsequently lost their licences through Operation Tonic. In that time around 100,000 vehicles have been stopped by police officers, sending out a powerful message that if you intend to drink, then don't drive.
Officers taking part in the Gloucester Road operation this morning also took the opportunity to monitor the new bus lane on the northbound carriageway leading up to the Aztec West Roundabout and a number of private vehicles seen to be using the lane improperly were stopped and their drivers spoken to.
Photos:
Chief Inspector John Holt supervises the checkpoint on the A38 Gloucester Road, near Aztec West.
"Don't take the risk" says PC Hannah Paull of the Almondsbury Traffic Unit.