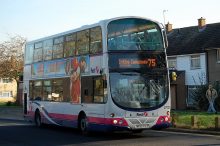 An experimental agreement between the Mayor of Bristol and First Group announced this week will give Patchway a 24-hour bus service on six days of the week from 24th March.
The no. 75 Hengrove to Cribbs Causeway route, which runs along Coniston Road in Patchway, will operate hourly in both directions between midnight and 5am.
While the 75 will operate on a fully commercial basis throughout the night, a further seven services (the 40, 43, 44, 48, 54, 70 and 90) will be extended to run until 3am through pump priming by Bristol City Council at a cost of £60,000 a year.
At present the City Council supports night buses across six routes on Saturdays and Sundays only (between midnight and 6am) at a cost of £40,000 a year. It is hoped that First will be able to take over the running of the new night services on a commercial basis as soon as they have established themselves.
The new six-day-a-week services are expected to attract shift workers as well as the traditional pub and club market. It also means that theatres, restaurants and other leisure activities can consider longer operating hours.
Talking about the new service, Marc Reddy, Regional Commercial and Business Growth Director for First in the South West and Wales, said:
"At the end of last year we began operating late night journeys on service 73 (Bristol City Centre – Bristol Parkway Station via Gloucester Road and Filton Avenue) on a commercial basis and these have proved popular."

"This is good news for Bristol. It means the city will have a much more comprehensive night bus service. Our plans to move Service 75 to be a truly 24-hour operation will, we expect, also be welcomed, especially by those who need to travel either for work or leisure in the small hours of the morning."
Bristol Mayor George Ferguson said:
"This is a good outcome. A major city with a late-night culture as vibrant as Bristol's must have a night bus service."

"And it easily has the potential to run as a self-funding private business. It just needs to be bigger, bolder and braver."

"Better late night connections make the city a more attractive place for more late night activity which brings more users to the night buses."
Related link: Bus Services in Patchway (The Journal)