Posted on Wednesday 12th April 2017 at 11:29 pm by SH (Editor)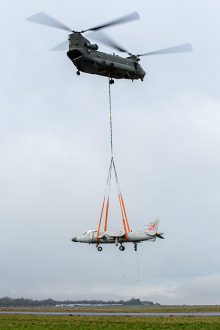 An unusual scene unfolded over the former Filton Airfield site on 8th March when a Chinook helicopter was drafted in to move a Sea Harrier 'jump jet' to its new home at the Aerospace Bristol museum, located just off Hayes Way on the Patchway side of the airfield.
To reach its new home inside a historic hangar that forms part of the new museum, the Sea Harrier had to be transported across a railway line and over Filton airfield. With no road bridge wide enough for it to cross, the RAF provided vital support with a Chinook from No 27 Sqn RAF Odiham and the RAF Joint Air Delivery Test and Evaluation Unit (JADTEU) successfully lifting the aircraft to the Aerospace Bristol site.
Wing Commander Steve Bell, Chief of Staff at RAF Odiham, said:
"Getting the opportunity to assist with a complex operation of this nature is a challenge, but one for which the unique qualities of the Chinook helicopter, and it's highly trained RAF crews, are ideally suited. Working with our colleagues from JADTEU in support of Aerospace Bristol, in the knowledge that they will be exhibiting this distinctive example of British Air Power to the public, has been an honour."
Linda Coode, Collections Manager at Aerospace Bristol, added:
"We are thrilled to welcome the Sea Harrier to Aerospace Bristol and would like to thank the RAF for their tremendous support. We look forward to welcoming visitors this summer, when they will be able to see the Sea Harrier on display alongside many other exhibits; including its Bristol Siddeley-designed engine, which gave the aircraft its vertical and short take-off and landing capability, and is one of many important engines developed at Filton."
More: Sea Harrier's new home is a 100-year-old grade II listed hangar »
Share this article:
Discussion is open - be the first to comment - click here to respond.