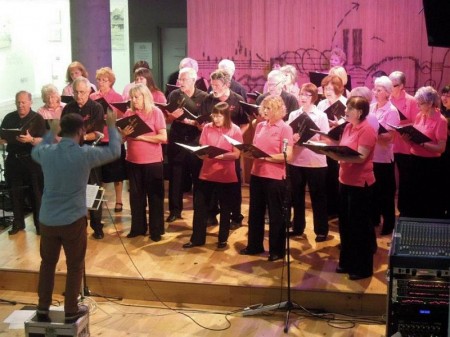 A local community choir is looking for new members to swell its ranks.
Dianne Stiddard, Chair of the 40-strong Stokes Singers, said:
"Looking for a stress-busting, fun, vocal workout? Then why not come and sing with us!"
Stokes Singers is a non-auditioning, all-embracing choir, with no requirement to read music. It has a relaxed atmosphere and is open to anybody who wants to get involved in singing.
The range of music is diverse with the emphasis being on participation and enjoyment. The choir performs two main concerts a year as well as singing at various community/charity events.
Diane added:
"New members are always welcome to the ranks, so if you are interested, check us out, come along for two free taster sessions."
Rehearsals are held at Patchway Baptist Church, Amberley Road, Stoke Lodge, BS34 6BU on Thursday evenings from 8pm to 10pm.
For further information ring Liz on Tel: 01454 614148 or visit www.stokessingers.org.uk.
Photo: The Stokes Singers performing at the Colston Hall in 2011.
Related link: What's On in Patchway (The Journal)