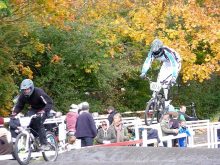 Bristol BMX Club has scooped the 2012 Patchway Community Club Grassroots Award.
Organised by Patchway Sports Association, the competition is a celebration of sport for Patchway, which this year saw nine clubs nominated. The awards evening was hosted by Patchway Sports and Social Club on Sunday 21st October and on the night over 100 people were also treated to a dynamic judo display by Patchway Judo Club.
The Grass Roots award went to Bristol BMX Club for their efforts as volunteers providing year-round BMX facilities open to the public and racing every Wednesday from April to September, with a winter series one Sunday a month from October to March. The club has been running for over 30 years and is based at The Tumps in Waterside Drive.
Open for riders of all abilities, the club's membership has had a huge boost since the London 2012 Olympics, and has risen from 120 to a record 151 riders, many of whom turn up every week to race including boys and girls aged 4 and over to adults up to 50 years old.
The club is a non-profit organisation, with any profit made being ploughed back into track maintenance to keep the facilities up to a high standard.
Riders have represented the club at regional and national level, and even at world level, and have been lucky enough to have coaching sessions provided by Olympic coach Marcus Bloomfield, who was a member of Bristol BMX Club in his youth.
The Patchway Community Sports Association is supported by South Gloucestershire Council working in partnership with Patchway Town Council, Patchway Community College, Circadian Trust and local sports clubs.
Roger Loveridge, Chair of Patchway Community Sports Association, said:
"It was a great evening. We are really pleased that Bristol BMX won the award because they are one of those clubs who work tirelessly all year round and this will help raise the profile of the work they do. The facilities need to be updated so hopefully this will help the club."
Sue Trevascus from Bristol BMX Club said:
"We have riders who have this year competed at world standard, and hope we can improve our facilities to accommodate and promote such talent, and help to make Bristol a well known centre for BMX racing. We have seen our membership rise since London 2012 and we want to make the most of the high profile of BMX becoming an Olympic sport."
The full list of clubs nominated on the night include:
Almondsbury Lawn Tennis Club
Almondsbury Youth Football Club
Aretians Rugby Football Club
Bristol BMX Club
Patchway Boxing Club
Patchway Cricket Club
Patchway Judo Club
Raven Fencing Club
Stoke Lane Amateur Football Club
If you would like to find out more or get involved with the club please contact stbristolbmx@blueyonder.co.uk.
Photo 1: Action from Round 1 of Bristol BMX Club's 2012/13 Winter Series. [Photo credit: Connor Summers]
Photo 2: Bristol BMX Club's track at The Tumps, Waterside Drive.