The coming-into-force of a traffic order banning general traffic from a stretch of Patchway's Highwood Road was widely ignored by drivers yesterday (Monday 15th).
With no new signage being put out, drivers of cars, vans and lorries continued to traverse the section of road between Charlton Boulevard and Coniston Road, ignoring new regulations that restrict access to buses, taxis and cyclists.
A worker making final adjustments to traffic signal control boxes said it might take some time for drivers to "educate themselves". The new rules would have to be enforced by the police, he added.
New bus lanes either side of the Callicroft Road/Durban Road junction were brought into service at 3:40pm, when workers removed traffic cones and signage that had been in position during their preparation.
Drivers approaching the Charlton Boulevard junction from the east are expected to turn left into the new Charlton Hayes housing development – indicated by "all traffic turn left" road markings on the carriageway and a small blue-and-white circular sign at the start of the bus-only section beyond the junction.
Similarly, traffic coming from the west is expected to turn left into Coniston Road before the start of the restricted section.
Planners at South Gloucestershire Council decided to close the road to general traffic in order to better integrate Charlton Hayes with the main part of Patchway. The closure was unsuccessfully opposed by a public petition that attracted 4,137 signatures.
Photo: A car ignores the new 'bus only' restrictions on Highwood Road.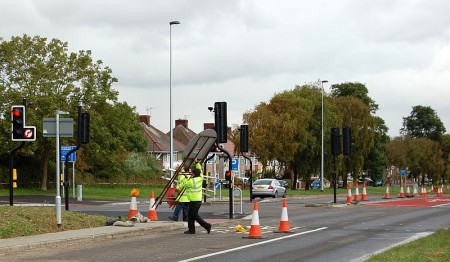 Photo: Workers remove traffic cones and signage to bring a new bus lane into operation on Highwood Road.
Photo: New bus lane on the approach to the Callicroft Road/Durban Road junction.
Related link: Highwood Road Linear Park (The Journal)