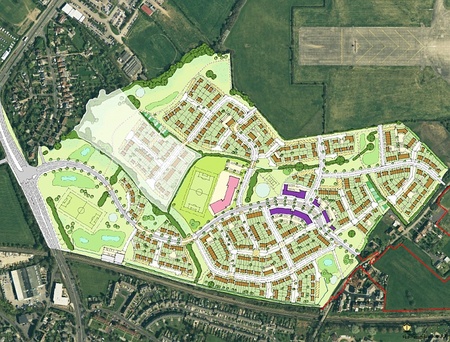 Housebuilder Persimmon has submitted a planning application for 1,100 homes at Fishpool Hill, south of Filton Airfield.
The development, which includes a local centre and a primary school, will be constructed on agricultural land north of the Henbury Loop railway line, between the A4018 in the west and Charlton Common in the east.
The land lies within the 'New Charlton' area of the Cribbs/Patchway New Neighbourhood proposed in South Gloucestershire Council's Core Strategy, a planning blueprint for the next 14 years that is currently undergoing independent inspection at a public inquiry.
The main vehicular access route into the new development will be from Wyck Beck Road in the east, although the masterplan shows further potential points of access from land within the Filton Airfield site (seen in the top right corner of the plan above), which is also designated for housing in the Core Strategy.
Plans for the new development first came to light in January last year, when Persimmon said it hoped to start building by "early 2012".
A public consultation event was held at Henbury Social Club in December 2011. A 'community engagement report' submitted with the planning application reveals that the event was attended by 96 people. Of the 35 response forms completed, 77% raised traffic and transport as being an important issue.
More info: Location of the new development (Google Maps)
Related link: Cribbs/Patchway New Neighbourhood (The Journal)