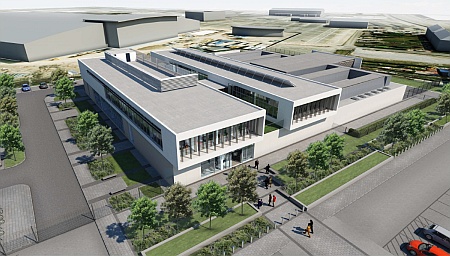 Avon and Somerset Police have announced the selection of a preferred bidder for a package of building projects that includes a new custody centre and police station on the former Bensons site on Gloucester Road in Patchway.
The custody centre, housing 48 cells, will be one of three centralised units across the force and will be used by officers in Bristol South Gloucestershire and parts of North Somerset.
A specialist crime investigation unit will also be located at the complex, which the force hopes will enable police officers to return to their communities quicker.
The new police station, replacing the one at Elm Park, Filton, will contain an enquiry office for members of the public and will serve the communities of Filton, Patchway, Bradley Stoke, Little Stoke, Stoke Gifford, Frenchay, Winterbourne, Severn Beach, Almondsbury, Easter Compton and Hambrook.
This site is expected to house approximately 280 officers and staff who are currently based in custody centres across Bristol and South Gloucestershire as well as those based in Filton police station. It will have 140 parking spaces for police operational vehicles, staff vehicles and visitors' parking.
The wining bidder has been named as the Blue Light Partnership, led by Bilfinger Berger Project Investments and comprising Miller Construction, Cofely (facilities management) and designers Haverstock Associates, Ryder Architecture and Scott Wilson.
An allocation of over £129 million of Private Finance Initiative (PFI) credits will be made by HM Treasury in order to deliver the force-wide programme.
Avon and Somerset Police Authority Deputy Chair Cllr Claire Gordon said:
"This is a good news story for Avon and Somerset. It has been a long journey, and I am delighted that in approving the business case, the Home Office and Treasury have recognised the strength of these proposals and the value for money they will deliver. This project has met many tests for being affordable and cost effective for taxpayers and will provide many jobs for the local area."

"This much needed investment will deliver an important part of the Constabulary's programme to re-organise our workforce so they are where the public need them. It will provide flexible, responsive and sustainable buildings that will leave a lasting legacy for the delivery of police services in Avon and Somerset."
Chief Constable Colin Port said:
"We are wholly committed to making the communities of Avon and Somerset feel and be safe by improving our performance and providing the best service we can, in spite of the financial challenges we are facing."

"Thanks to the PFI, our custody capacity will increase by 27% once the three new custody and crime investigation centres are completed, and their bespoke facilities will allow us to process offenders more swiftly and get officers back on to the streets as quickly as possible."

"As a police service and a major employer it is even more important at times such as these to channel investment and employment opportunities back into the local economy. Blue Light Partnership will build on our work with young people and offenders and place a high level of orders for service and sub contracts within our Force area".
Jitesh Patel, Project Director at Bilfinger said:
"This is a long-term partnership with the Authority and Constabulary, and a significant investment for the local area. We have designed highly sustainable buildings that are efficient and flexible to respond to future needs. Our local supply chain is keen to continue to engage with and provide opportunity for local business and employment."
The Blue Light Partnership has offered the following commitments:
27 apprenticeships across Blue Light's supply chain over the construction period.
Six apprenticeships by the facilities management contractor over the contract period with at least two created in the first five years of operation.
70% of sub contracts to be placed for construction within 35 mile radius of the sites or within the force area.
50% of orders for services to be placed within a 35 mile radius of the sites or within the force area.
16 offenders offered the opportunity to be involved in the construction related activities across the project.
During the construction period at least 20 opportunities to be provided to local schools and colleges to link their courses towards activities on the project.
Planning Applications for each of the four proposed developments will be submitted over the coming weeks. Financial close (at which point the contract is signed) will take place in August 2012. Construction will commence in September 2012, with the first building completed in January 2014 and the last in March 2014. The Blue Light Partnership will then be responsible for delivering facilities management services (including cleaning, maintenance and energy management) once the buildings are completed.
More info:
Related links: